Our Vineyards
We have relationships with not only Francisco Ramirez and others in Santa Ynez we also work closely with Coastal Vineyard Care and Associates who farm many of the prized vineyards in Santa Barbara County. We collaborate with the vineyard managers to yield some of the highest quality grapes in the world. Each vineyard is carefully selected to embody our winemaking quality and stylistic goals.
To insure consistent quality of our wines, all grapes that we harvest are hand-picked and come from specific vines, within marked blocks and from designated rows within the vineyards. This is truly a partnership where countless hours, meticulous vineyard practices and the driving forces of terroir come together. We are dedicated and grateful for our vineyard partnerships.


The AVA'S and Wine Regions of Santa Barbara County
The 50 miles stretching from Point Conception to Rincon constitutes the longest east-west traverse of shoreline from Alaska to Cape Horn. Here, the Santa Ynez and San Rafael Mountains form a unique coastal range, and the inland ebb and flow of fog and ocean breezes make the region one of the coolest viticultural areas in California. Because of this geologic oddity, the ocean breezes sweep eastward, channeled by the hills and mountains that ring the region. Heading east into the foothills, the temperatures are warm during the day and very cool during the night, whereas the vineyards that lie westward toward the ocean enjoy a mild and moderate climate. Coupled with soils that run the gamut from ancient beach and diatomaceous earth to chirt and limestone, there is a near-perfect place for a wide variety of wine grapes. These microclimates have been identified and are now delineated by several smaller AVAs (American Viticultural Area).
SANTA YNEZ VALLEY AVA
The Santa Ynez Valley (a larger and more general appellation) is located just north of Santa Barbara in a very unique east-west trending valley. As a result of this geography, the mountains and valleys funnel the cool winds and fog from the Pacific Ocean inland, which, along with marine-derived soils, creates an amazing array of microclimates which can grow a diversity of exceptional grapes. Our vineyard source includes Camp 4.

STA. RITA HILLS AVA
Located on the cool western margin on the Santa Ynez Valley, Sta. Rita Hills is a true coastal AVA. Consistent wind and fog from the nearby Pacific Ocean make this AVA a chilly Davis Region I climate (the same as Champagne and parts of Burgundy). The marine soils and this special climate are ideal for growing Pinot Noir and Chardonnay. Our Sta. Rita Hills vineyard sources include Sanford & Benedict, La Rinconada, La Encantada, and John Sebastiano.
DONNACHADH VINEYARD
Family owned and organically farmed, Donnachadh Vineyard is located on Santa Rosa Road, in the Sta. Rita Hills AVA of Santa Barbara County. The property is 285 acres with approximately 40 acres under vine. We grow Pinot Noir, Chardonnay, Syrah and a little bit of Gamay Noir.
The climate of the Santa Rita Hills is dominated by the Pacific Ocean, which lies about 9 miles from the vineyard. Morning fog cools the grapes and consistent afternoon ocean breezes keep heat from building up over the course of the day.
The vineyard consists of two main parts: the hillside blocks, and the riverside blocks. The riverside blocks sit alongside the Santa Ynez River. They are more sheltered from the wind than the hillside blocks and the soil is a delicate and well drained sandy loam that sits on top of deep layers of gravel river deposits. The hillside blocks are more exposed to the ocean winds. The soil there is derived from marine shale deposits and features more clay, rocks and cobbles than the riverside blocks. Overall, the hillside environment is quite challenging for the vines, limiting yields and producing grapes of exceptional character.
KESSLER-HAAK
Although this is not a certified organic vineyard, vineyard practices are strictly organic. Kessler Hawk's farming approach strives for balance, and co-existence between the vines and plant, animal and insect populations.
Planted in 2005, soils in the vineyard vary from sandy to sandy loam with patches of clay loam. 7 Pinot Noir clones on 3 different rootstocks are planted amongst 27 acres of the vineyard's rolling hillsides. A 2.5 acre east-facing hillside was reserved for our 3 clones of Chardonnay, planted on low vigor 110R rootstock to showcase the exceptional character of cool climate Chardonnay. Yields in the vineyard are low and currently average 1.2 - 1.5 ton/acre for Pinot Noir and 1.5 - 2 ton/acre for Chardonnay.
SANFORD AND BENEDICT
The Sanford & Benedict vineyard was planted in 1971, making it one of the oldest Pinot Noir vineyards in the Sta. Rita Hills. The soils here have lower quantities of clay than other areas of the valley. They are comprised of Gazos clay loam and Santa Lucia shaley clay loam. The area receives foggy mornings and long, cool days, resulting in a longer growing season and lower yields. It has been named one of the five most important vineyards in California by Wine Enthusiast and numerous producers seek to buy its fruit each year, often creating their own vineyard designated wines from Sanford & Benedict.
LA RINCONADA
La Rinconada is planted exclusively with Chardonnay and Pinot Noir. The vineyard sits on a well-drained, west facing steep slopes. The soil is comprised of Santa Lucia shaley clay loam. Due to the heavy Pacific fog which pools in this valley vineyard, it is an ideal region for cool-climate varietals.
LA ENCANTADA VINEYARD
Planted by legendary Santa Rita Hills pioneer Richard Sanford, La Encantada sits at the far western edge of the appellation. Our blocks (1, clone 667 and 6, clone 4) are located in thin, nitrogen-deficient calcareous and siliceous soils of fine sandy loam on gentle north facing slopes a few hundred feet above the Santa Ynez River. Fog and ocean breezes traveling daily up the river valley provide a long, slow ripening season, and La Encantada is always one of our last Pinot Noir picks. These grapes give signature, concentrated, black cherry, baking spices a solid tannic structure.
JOHN SEBASTIANO VINEYARD
A steep, dramatic, hillside site on the eastern edge of Santa Rita Hills. Block 20B, Dijon Clone 115 grows at the rear of the property in a cool climate on west to north eastern slopes of linne sandy clay loam with limestone in the subsoil. High winds limit growth here and yield small berries, giving wines of intense fruit character, with cola and spices.

ZOTOVICH FAMILY VINEYARD
Located in the heart of Sta. Rita Hills off Highway 246 on a very gentle, even slope with northern exposure. This vineyard is going through a revival under the new ownership of the Zotovich family to achieve its intended greatness. The soils at Zotovich are sandy, and the row orientations are predominantly north/south.

BALLARD CANYON AVA
Located in the center of Santa Ynez Valley, the area's newest AVA is generally a cool-climate area however, it enjoys significant diurnal temperature swings. Thus the area enjoys hot, sunny days moderated by cool to cold nights, brought in by post-sunset ocean breezes. The area has a fascinating mix of soils, and our vineyard source Stolpman features thin, well drained and frankly poor soils of sandy loam, overlying pockets of limestone, which limit vegetative growth and provide minerality in the wine. Ballard Canyon is planted heavily towards the Rhône varieties, and we feel most notably, Syrah.
STOLPMAN
Stolpman's 220-acre property, of which 153 acres are currently planted to grapes, lies on three major limestone ridgelines in Santa Barbara County. By implementing revolutionary viticultural techniques, they push their dry-farmed limestone vines to unprecedented levels of quality.
SANTA MARIA VALLEY AVA
The often foggy and windswept Santa Maria Valley is the northern most appellation in Santa Barbara County. The appellation is bounded by the San Rafael Mountains and the Los Padres National Forest to the east, and by the Solomon Hills and the city of Santa Maria to the west. The region enjoys extremely complex soil conditions and diverse microclimates. Chardonnay and Pinot Noir are two varietals which especially benefit from the ocean's influence. We sourced our 2013 Chardonnay from the legendary and highly acclaimed Sierra Madre Vineyard.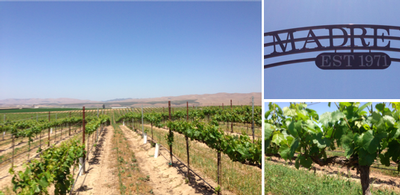 SIERRA MADRE VINEYARD
A historic vineyard with vine-covered bluffs rising up on sandy marine soils drawing cool air from the Pacific. Clones 15 & 95 benefit from an exceptionally cool growing season that encourages slow ripening over a long period of time, allowing for the development of structure and flavor intensity. Afternoon winds from the ocean balanced by just enough heat units fully ripen the clusters each vintage.
HAPPY CANYON OF SANTA BARBARA AVA
Happy Canyon is located at the warmer, eastern end of the valley. The temperate climate and high-magnesium serpentine-derived soils provide an ideal location for growing Bordeaux varietals Cabernet Sauvignon, Melot, Cabernet Franc, Malbec, Petit Verdot and Sauvignon Blanc. Our vineyard soucre includes Happy Canyon Vineyard.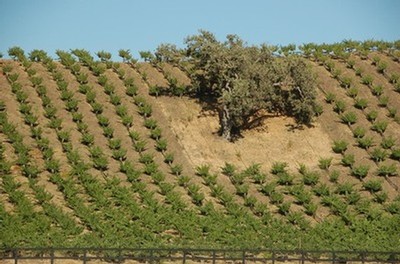 HAPPY CANYON VINEYARD



Happy Canyon is located at the warmer, eastern end of the valley. The temperate climate with positas fine sandy loam, cobbles of serpentine and chert soils are low in fertility and provide an ideal location for growing Bordeaux varietals.

Cabernet Sauvignon from the "head trained vine" of clone Takalon/4 grown on the steep slopes of block 8 is low yielding and produces grapes with signature concentrated fruit and solid tannic structure.
The Merlot in our BoRific Bordeaux blend is from the hillside sloping block 2 and clone 181. The high-magnesium serpentine-derived soil of block 5 provides an ideal location for growing Sauvignon Blanc clone 1.
Los Olivos District AVA
The Los Olivos District is entirely within the Santa Ynez Valley AVA, sharing a common boundary with Ballard Canyon AVA on the west side, and sharing a common boundary with the Happy Canyon of Santa Barbara on the east side. The northern boundary incorporates for the most part a 1000-foot elevation line which separates the topographically rugged foothills of the San Rafael mountains to the north from the gentle rolling hills to the south. This 1000-foot line also marks the northern boundary limit of the Positas-Ballard-Santa Ynez soil series, the dominant soil type of the Los Olivos District. The southern boundary is defined by the Santa Ynez River, which marks a change in geology and principal soil type.
CAMP 4
The story of Camp 4 Vineyard begins with the late Fess Parker. After purchasing the 1,400 acre property, Parker decided to plant 256 acres of grapes on the land in 1999 and it produced its first successful crop harvest in 2003. The vineyard's name, Camp 4, refers to the land being the fourth stop on a passage from San Francisco to Yuma, Arizona, during the stagecoach days. In 2010, The Santa Ynez Band of Chumash Indians purchased the property. The vineyard is situated on the eastern most edge of Santa Ynez Valley and serves as the gateway into Happy Canyon. The vineyard is home to 19 varietals focusing on Rhone and Bordeaux grapes and provides an ideal microclimate for these varietals with a long growing season and maximum flavor development.
REFUGIO RANCH VINEYARD
For hundreds of years this has been cattle country. When the Gleason Family purchased the land in 2004 we kept the original name of the cattle ranch - Refugio Ranch - to honor the history and spirit of what came before us. Refugio Ranch is truly a family owned and operated business. Borrowing from Old World traditions of passing land and passion down from one generation to the next.
SOGNO DEL FIORE
Drive through the gated entrance and realize this property is truly stunning. Sogno Del Fiore is a private residence with a meticulously tended 3 acre vineyard surrounded by rolling hills.
Los Alamos Valley Region
Los Alamos Valley lies between Santa Maria Valley and Santa Ynez Valley. With warm days and very cold nights, the fruit from this region achieves incredible concentration and balance. Its slight, well drained soils and a wide range of microclimates allows for a diversity of varietals. Because Los Alamos Valley is not an official appellation, you won't see it on a wine label - "Santa Barbara County" is used instead. But you should not be surprised to see Los Alamos Valley vineyard names specified on the label.
Los Alamos, which means "The Cottonwoods" in Spanish, is a town just off the 101 freeway between the Santa Maria Valley and Santa Ynez Valley appellations. The area around Los Alamos has a temperate climate all its own - ten degrees cooler than Santa Ynez Valley to the south and ten degrees warmer than Santa Maria Valley to the north-east. Los Alamos Valley is bounded to the north by Solomon Hills and to the south by La Purisima Hills.
BLACK OAK VINEYARD
In 1994 Dan and Meghan Reeves bought a forty acre property set high in the Santa Ynez Valley foothills overlooking the town of Los Olivos. It was originally planted in 1989 and the Reeves soon grafted over to Syrah with clones from Australia and France. The three terraced vineyards range from 1000' to 1200' in elevation, providing unique growing conditions that give the grapes a distinctive flavor not found in other areas of the Santa Ynez Valley. The vines typically yield under two tons per acre. Estate clones include Syrah clone 3, estrella and clone 99.
WATCH HILL VINEYARD
Watch Hill Vineyard & Ranch is located in Los Alamos Valley, a relatively cool site about half-way between Santa Maria and Santa Ynez. At Watch Hill there is a large main planting of about 20 acres and a smaller 2 acre steep hillside block called "Sam's Vineyard." The almost 20 acres was planted around 2002, mostly in Syrah varietals and is managed by Coastal Vineyard Care & Associates. The soils here are a mix of sand and clay and somewhat low in nutrients. The vineyard is surrounded by a horse pasture on one side and a group of noisy chickens on the other. The grapes here ripen slowly and are usually ready for harvest in the final week of October.
THOMPSON VINEYARD
Thompson Vineyard is dedicated to the stewardship of land whereby its truest expression is experienced through the yield of our collective efforts.
Within the renowned Alisos Canyon corridor, 42 acres of cool-climate Rhone varietals sit naked on their own rootstock for the purest expression of nature's brushstrokes. Since 1990 Thompson's elegant style has been distinguished by an exquisite balance of power and finesse.
The vineyard forms the foundation for some of the world's most lauded artisan winemakers' highest acclaimed offerings and maintains a proven reputation as one of the premier sources of ultra-premium Syrah in the United States and abroad.
Excellent place to stop by in downtown Santa Barbara! Jamie and Kym were great hosts and truly vested in their wines - we really enjoyed our visit and would highly recommend!
Jessica
Denver, CO