Vineyards
We are primarily aligned with Coastal Vineyard Care and Associates who farm many of the prized vineyards in Santa Barbara County. We collaborate with their vineyard managers to yield some of the highest quality grapes in the world. Each vineyard is carefully selected to embody our winemaking quality and stylistic goals. Starting with the 2014 harvest for our Pinot Noir and Chardonnay varieitals, we've added the legendary Sandford & Benedict and La Rinconada vineyards of Sta. Rita Hills.
To insure consistent quality of our wines, all grapes that we harvest are hand-picked and come from specific vines, within marked blocks and from designated rows within the vineyards. This is truly a partnership where countless hours, meticulous vineyard practices and the driving forces of terroir come together. We are dedicated and grateful for our vineyard partnerships.
Burgundian Varietals

LA ENCANTADA VINEYARD (Sta. Rita Hills)
Planted by legendary Santa Rita Hills pioneer Richard Sanford, La Encantada sits at the far western edge of the appellation. Our blocks (1, clone 667 and 6, clone 4) are located in thin, nitrogen-deficient calcareous and siliceous soils of fine sandy loam on gentle north facing slopes a few hundred feet above the Santa Ynez River. Fog and ocean breezes traveling daily up the river valley provide a long, slow ripening season, and La Encantada is always one of our last Pinot Noir picks. These grapes give signature, concentrated, black cherry, baking spices a solid tannic structure.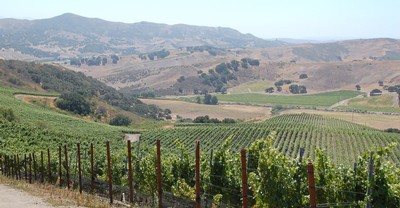 JOHN SEBASTIANO VINEYARD (Sta. Rita Hills)
A steep, dramatic, hillside site on the eastern edge of Santa Rita Hills. Block 20B, Dijon Clone 115 grows at the rear of the property in a cool climate on west to north eastern slopes of linne sandy clay loam with limestone in the subsoil. High winds limit growth here and yield small berries, giving wines of intense fruit character, with cola and spices.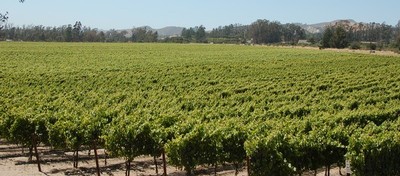 ZOTOVICH FAMILY VINEYARD (Sta. Rita Hills)
Located in the heart of Sta. Rita Hills off Highway 246 on a very gentle, even slope with northern exposure. This vineyard is going through a revival under the new ownership of the Zotovich family to achieve its intended greatness. The soils at Zotovich are sandy, and the row orientations are predominantly north/south. Our 2012 Pinot Noir includes pinot noir Dijon clones 115 and 777 from this vineyard.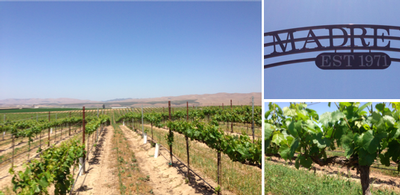 SIERRA MADRE VINEYARD (Santa Maria Valley)
A historic vineyard with vine-covered bluffs rising up on sandy marine soils drawing cool air from the Pacific. Clones 15 & 95 benefit from an exceptionally cool growing season that encourages slow ripening over a long period of time, allowing for the development of structure and flavor intensity. Afternoon winds from the ocean balanced by just enough heat units fully ripen the clusters each vintage.
Bordeaux Varietals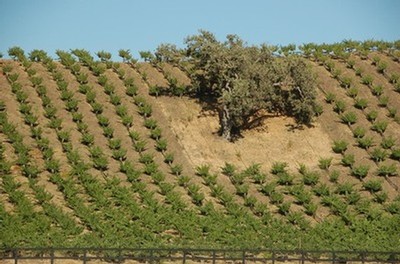 HAPPY CANYON VINEYARD (Happy Canyon of Santa Barbara)

Happy Canyon is located at the warmer, eastern end of the valley. The temperate climate with positas fine sandy loam, cobbles of serpentine and chert soils are low in fertility and provide an ideal location for growing Bordeaux varietals.

Cabernet Sauvignon from the "head trained vine" of clone Takalon/4 grown on the steep slopes of block 8 is low yielding and produces grapes with signature concentrated fruit and solid tannic structure.
The Merlot in our BoRific Bordeaux blend is from the hillside sloping block 2 and clone 181. The high-magnesium serpentine-derived soil of block 5 provides an ideal location for growing Sauvignon Blanc clone 1.
The AVA'S of Santa Barbara County
The 50 miles stretching from Point Conception to Rincon constitutes the longest east-west traverse of shoreline from Alaska to Cape Horn. Here, the Santa Ynez and San Rafael Mountains form a unique coastal range, and the inland ebb and flow of fog and ocean breezes make the region one of the coolest viticultural areas in California. Because of this geologic oddity, the ocean breezes sweep eastward, channeled by the hills and mountains that ring the region. Heading east into the foothills, the temperatures are warm during the day and very cool during the night, whereas the vineyards that lie westward toward the ocean enjoy a mild and moderate climate. Coupled with soils that run the gamut from ancient beach and diatomaceous earth to chirt and limestone, there is a near-perfect place for a wide variety of wine grapes. These microclimates have been identified and are now delineated by several smaller AVAs (American Viticultural Area).
SANTA YNEZ VALLEY AVA
The Santa Ynez Valley (a larger and more general appellation) is located just north of Santa Barbara in a very unique east-west trending valley. As a result of this geography, the mountains and valleys funnel the cool winds and fog from the Pacific Ocean inland, which, along with marine-derived soils, creates an amazing array of microclimates which can grow a diversity of exceptional grapes. Our vineyard source includes Camp 4.
STA. RITA HILLS (Santa Rita HIlls) AVA
Located on the cool western margin on the Santa Ynez Valley, Sta. Rita Hills is a true coastal AVA. Consistent wind and fog from the nearby Pacific Ocean make this AVA a chilly Davis Region I climate (the same as Champagne and parts of Burgundy). The marine soils and this special climate are ideal for growing Pinot Noir and Chardonnay. Our Sta. Rita Hills vineyard sources include Sanford & Benedict, La Rinconada, La Encantada, and John Sebastiano.
HAPPY CANYON OF SANTA BARBARA AVA
Happy Canyon is located at the warmer, eastern end of the valley. The temperate climate and high-magnesium serpentine-derived soils provide an ideal location for growing Bordeaux varietals Cabernet Sauvignon, Melot, Cabernet Franc, Malbec, Petit Verdot and Sauvignon Blanc. Our vineyard soucre includes Happy Canyon Vineyard.
BALLARD CANYON AVA
Located in the center of Santa Ynez Valley, the area's newest AVA is generally a cool-climate area however, it enjoys significant diurnal temperature swings. Thus the area enjoys hot, sunny days moderated by cool to cold nights, brought in by post-sunset ocean breezes. The area has a fascinating mix of soils, and our vineyard source Stolpman features thin, well drained and frankly poor soils of sandy loam, overlying pockets of limestone, which limit vegetative growth and provide minerality in the wine. Ballard Canyon is planted heavily towards the Rhône varieties, and we feel most notably, Syrah.
SANTA MARIA VALLEY AVA
The often foggy and windswept Santa Maria Valley is the northern most appellation in Santa Barbara County. The appellation is bounded by the San Rafael Mountains and the Los Padres National Forest to the east, and by the Solomon Hills and the city of Santa Maria to the west. The region enjoys extremely complex soil conditions and diverse microclimates. Chardonnay and Pinot Noir are two varietals which especially benefit from the ocean's influence. We sourced our 2013 Chardonnay from the legendary and highly acclaimed Sierra Madre Vineyard.
Whether you are visiting Santa Barbara for the first time or have been coming for years, you have to visit Jamie Slone Wines at the new Wine Collection of El Paseo.
Shamra Tankersley Strange
Malibu